Agreed structures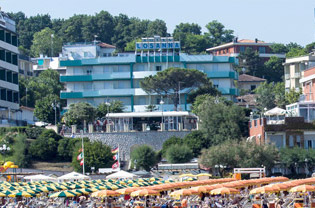 Hotel Losanna - 4 Stars
Losanna Hotel is situated over the sea, in a green area, in a quite and relaxing zone and anyway near the center of the city.
Our house is lead and managed by owners (Family Usuardi-Herzen).
A large, fresh and bright hall will welcome you at hotel entrance.
Hotel Principe - 2 Stars
The Hotel Principe in Gabicce Mare is a good 2-star hotel, located in a quiet area that faces the gardens of Gabicce Mare very close to the sea. The hotel is open from May to September. We have a spacious hall provided with satellite TV and a bar and an air-conditioned dining room. Our family is proud of 40 years of continual service and activity, and promises to offer a very warm welcome, good service and good food.